They're Lying!
Even while encased in carbonite, Han Solo sees right through Baltimore City officials...




Meanwhile, the memorabilia sale goes on, including two props from John Waters' Cecil B. Demented, which was filmed in part at The Senator (one of these props is a fake sidewalk block):




There are also some vintage promotional materials...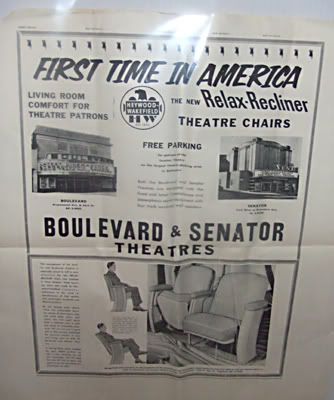 STATUS: Today's bank auction of the theatre has been cancelled. The city will most likely foreclose on the theatre and then buy it at their own rigged auction, probably sometime in May, but they haven't given a date. Word on the street is that they will then use a bid process to turn it over to their favorite developer. The pseudo-government, semi-private Baltimore Development Corporation (BDC) has apparently taken over the city government in a coup and Andy Frank is the real mayor (or at least the power behind Sheila Dixon's throne). The family that built the theatre and has preserved and protected it for 70 years is being forced out and getting screwed in the process.
Labels: andy frank, baltimore city, bdc, developer, han solo, land grab, liars, lying city officials, memorabilia sale, senator theatre, tom kiefaber