Edwards Campaign More Than Doubles Donor Base in Q2
The Edwards campaign more than doubled its donor base in Q2, gaining approximately 70,000 donors this quarter, according to a conference call this afternoon with Deputy Campaign Manager Jonathan Prince and Senior Advisor Joe Trippi. At the end of Q1, their donor base stood at approximately 39,000 individual donors. They now have over 100,000 donors.
One of their major goals this time was to expand their fund-raising base. They did this with Small Change for Big Change events, and internet outreach, as well as traditional fund-raising methods.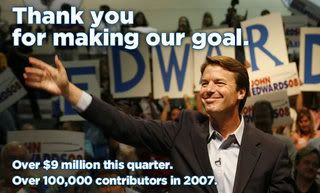 Jonathan Prince said they need $40 million before the Iowa caucus. They are well over half way there. They raised comfortably over $9 million for this quarter, and $14 million last quarter.
Joe Trippi said they had over 4.7 million in total grassroots fundraising, which consists of Small Change for Big Change, online donations, and small donations.
They raised over 3.5 million online, which was more than last quarter.
80% of their contributions were $50 and under.
Small Change for Big Change brought in over 4000 donors.
Over 30% of the contributions came from states that Bush won in 2004.
Almost all of the money is for the primary. They don't have any cash on hand figures yet. They said it's been a great fund-raising quarter for Democrats, expanding the overall Democratic donor base for whoever gets the nomination, which they (and I) believe will be Edwards.
A question was asked about how much money was raised on Ann Coulter, and they said it was impossible to tell. The Ann Coulter controversy came up in the last week of the quarter, which is always big no matter what happens in that week. Also, since they had greatly expanded their donor base, this could also account for the big money raised in the last week of the quarter.
Some points made by the campaign: History bears out that we have all the money we need. This is not a money race. It's a race for the nomination. Howard Dean outraised every one last time, but still lost based on his loss in Iowa. In terms of fundraising, we are ahead of where Dean was in 2003. The nomination will be won or lost in the early states, where Edwards is doing very well.
Leslie Wayne from the New York Times, who recently smeared Edwards in a nasty front page article based on innuendo, asked perhaps the stupidest question I have ever heard on one of these conference calls, proving that she's not the brightest bulb in the box. Do they have an exact total?
The answer to this is that of course they don't, because checks are still coming in that were postmarked before the end of the quarter, and therefore will count toward the total. I'm not sure if it was Jonathan Prince or Joe Trippi that couldn't resist starting one sentence of his answer to her with something like "without having to go through it on his call for everyone who understands how the process works..."
Whether or not dim bulb reporters understand it, the Edwards campaign is right on target and has all the money he will need to get his message out.
Labels: 2008 elections, fundraising, joe trippi, John Edwards, jonathan prince, president, primaries