Happy Birthday, John Edwards!
Shhh! This is a surprise birthday present for the next president of the United States from his supporters. I'm posting it on my blog because no one will read it here. Tomorrow, I'll post it where he will see it. If you are one of my two readers, please don't tell him.

Today, we wish happy birthday to our next president, John Edwards!




We haven't been able to get you what you really want yet, but we're working on it. For this year's birthday, you'll have to settle for a birthday party in Chapel Hill with some of your friends, and this thrilling diary.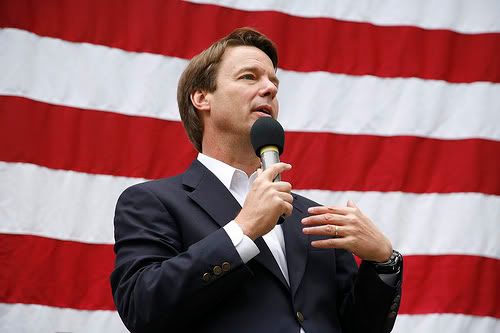 John, when you were born, your father had to borrow money to get you home from the hospital. We're pretty sure the guy who lent the money is wishing he'd asked for a percentage of your future success. You worked hard, and you earned it, and your life has been the embodiment of what used to be thought of as the American dream, a dream which you are working to restore.

You grew up in a small town in South Carolina, and it's a well-kept secret, but you are the son of a mill worker. I bet you made your parents proud when you were the first person in your family to go to college, but maybe they were even more proud of your football skills.

In law school, you met your future wife, beautiful Elizabeth, and I'm sure all of America will agree with me that there's nothing more sweet and charming than lawyers in love.




As the years passed, you raised a lovely family, helped many families who had suffered tragedies to have their day in court, built a successful law practice, ran for Senate and won on your first try, you know, normal stuff.

Not content to stop there, and seeing many of your fellow Americans suffering, you ran for president in 2004 to reunite the two Americas. You didn't quite make it, but that one guy who got the Democratic nomination, you know the guy I mean - tall guy, lanky, you know, what's his name - anyway, he picked you to be his running mate. That was probably the only time in history when the vice presidential candidate was more memorable than the guy on the top of the ticket. Some of us watched more of your speeches than the other guy's.

Now, you're running for president again, and this time, we know you're going to do it! Along the way, starting with your very first Senate campaign, you've fought for equality and a level playing field for all. This has made you a lot of friends, who see your compassion and your sense of fairness. We are with you every step of the way. We will make you our next president!



Right now, today, we hope you're enjoying yourself. Take some time to bask in the love and support of those around you, because there are a lot of us who love you and are reaching out to hold you up.

Enjoy the video, the photos, and all the good wishes from your supporters who will sign below. I feel certain that all of us will also want to give you a birthday gift, right here.






College for Everyone

Labels: happy birthday, John Edwards