Yellow Submarine ROCKS ON at The Senator!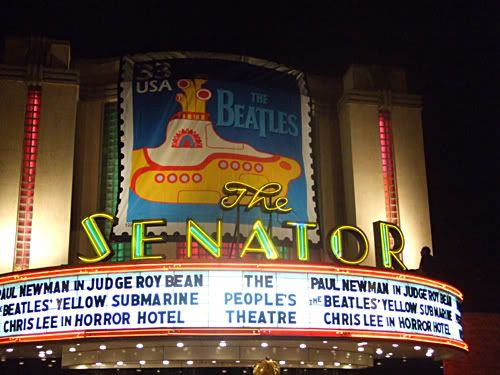 Yellow Submarine continues this week at The Senator with evening showtimes on Monday, Tuesday, and Thursday at 7:30 PM.

Wednesday there's the public meeting with Joan Carter Conway at 6:00 PM, so the film will not show.

How many times can I see Yellow Submarine in a week or so? It remains to be seen. I figure my chances to see Yellow Submarine on the giant 40 foot screen at The Senator with the incredible sound system are finite, so I'm taking advantage of it while I can. I think I watched the film at least 5 times in the past week. That probably means I've seen this movie at least about 50 times now in my lifetime. For some reason, I'm not tired of it. Maybe that's because The Beatles rock. Maybe it's the colors. The colors! Anyway, it's all in the mind.
Labels: baltimore, Maryland, the beatles, the senator theatre, yellow submarine