One More Saturday Night at The Senator
In my previous post I noted that years before the music existed, The Senator was made for rock and roll. Well, you'll get a chance to see what I mean on Saturday, June 13th (a week from this coming Saturday), when an evening of classic rock comes to The Senator - One More Saturday Night!

Featuring live music by 38Cents A Gallon and J.D. and the Blades plus Shinola. Also rare Grateful Dead shorts.

I haven't heard any of these bands before, but from what I understand, 38Cents A Gallon is a Grateful Dead cover band and the other live music is more general classic rock. The poster created for this event is just awesome, too, recalling the two skeletons standing over Radio City Music Hall from Dead Ahead, only these skeletons are standing over The Senator. Notice the subtle Steal Your Face in the building and sidewalk, too. Cool.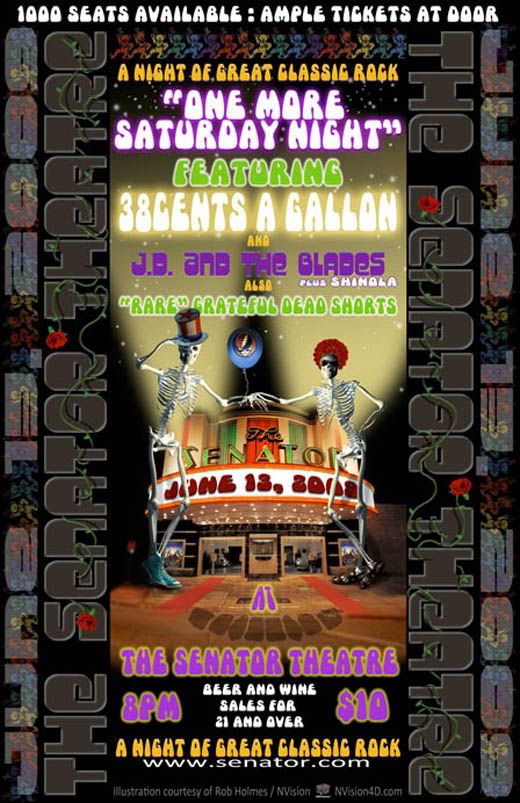 Beer and wine will be available. Show starts at 8 PM and admission is $10.

Um...I guess I actually haven't asked if it's OK to bring your drums, but would anyone really expect Tom K to say no?



Labels: 38cents a gallon, baltimore, beer, concert, Grateful Dead, j.d. and the blades, live music, Maryland, one more saturday night, poster, shinola, the senator theatre, wine