Hey Hon, come get down with us on the pavement!
Come re-paint The Senator's commemorative sidewalk blocks with us!

It's time for a "paint-o-rama" group effort to renew the colorful graphics of The Senator's sidewalk blocks. Weather permitting, we'll be painting on both Saturday and Sunday from Noon until dusk.

The Senator's unique commemorative "walk of fame" celebrates the theatre's rich history. We need your help to get them in shape for a prestigious visit to The Senator by The Theatre Historical Society of America's annual conclave that's coming up in early July. If you can paint within the lines and don't mind getting down with us on the concrete and getting dirty then please come join our painting party!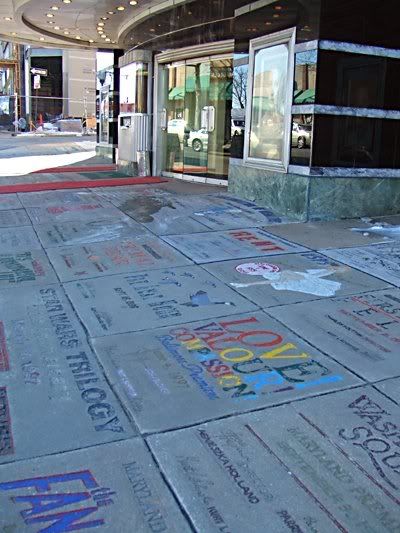 You'll need to bring along some old duds that you don't mind getting dirty, and you might want to bring an old blanket and/or pillow to pad the hard surfaces. We'll be painting with exterior oil-based paint, which is hard to remove from clothing, and aroma of turpentine is sure to linger. Paint and supplies will be provided, and if you have expendable paint brushes we'll put them to use.

Popcorn, soda and camaraderie will be provided for all volunteers, and beer and wine too for those 21 and over.
Labels: baltimore, blocks, Maryland, paint, painting, party, sidewalk, sidewalk of stars, the senator theatre, walk of fame