Yesterday, I had the pleasure of seeing Bonnie Raitt and Jackson Browne open a town hall in Lebanon, New Hampshire for John Edwards. They played to a very enthusiastic crowd at the Lebanon Opera House, which seats 800 people, and from what I could see, it was pretty nearly full. The main floor was entirely full. I'm not sure about the balcony, but in any case, it was at least 500 people -- a good-sized crowd for a New Hampshire town hall.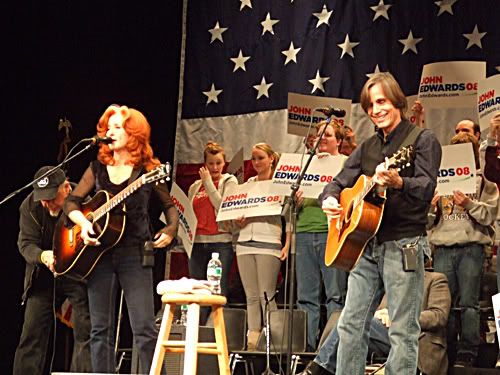 At the start of the show, Peter Coyote, the actor, introduced Bonnie Raitt and Jackson Browne.




Raitt and Browne opened their short but sweet set with "World in Motion." The lyrics were right on target for the setting.


Sun going down in the USA
Down on Main there's a family sleeping in a doorway
Around the corner you can hear the sound
People dancing around the golden calf
Those who have not, those who have

On the billboards and the T.V. screens
They got food and cars and toys and trucks and jeans
Like a homeless child's fitfull dreams
Smiling faces free from wanting
Life's abundances beyond counting

World in motion -- speed your changes
Close your distances, find your angels
Lose your fears and meet your dangers
World in motion

Bonnie Raitt talked about why they are touring with Edwards, and said they don't give their endorsements lightly. She talked about Edwards being a man of integrity and said we have to get him elected. Then she dedicated the next song to Elizabeth - "Angel From Montgomery."
They played at least one other song that I don't know the name of, but my video camera is really a digital camera with a 2 GB card that can take some video. I had to conserve space on my card so I could get some of John's speech. So I took some photos instead during their 3rd song.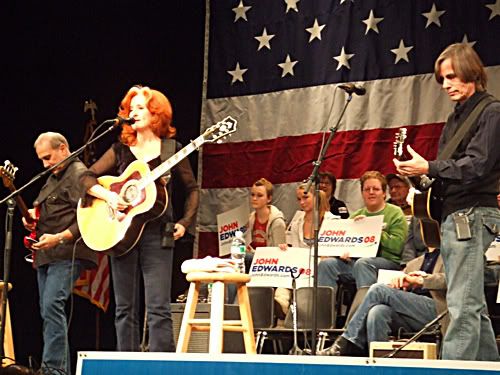 There was no way I could resist recording this song, one of my favorites by Bonnie Raitt - "Thing Called Love."
After Bonnie Raitt and Jackson Browne played about four or maybe five songs, Elizabeth and Cate Edwards came out on stage.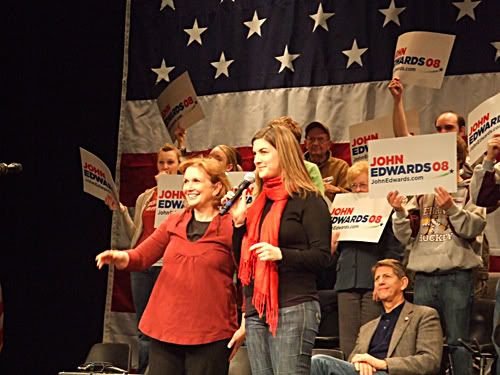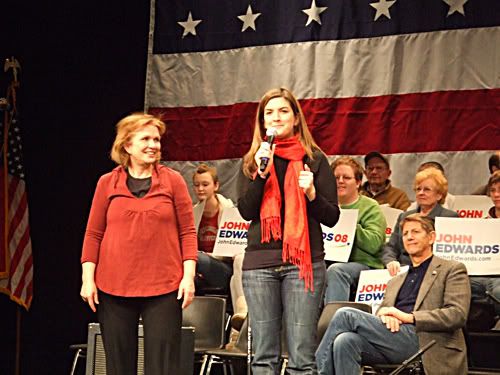 Elizabeth was looking very well. She spoke about the way her husband's platform comes deeply from his own personal experience. Specifically, she told a story about how John's mother Bobbie was forced to leave her dream job refinishing antiques when the mill that John's father worked in closed, and their family needed health care. She said that nobody should have to stay in a job they hate or leave a job they love for healthcare.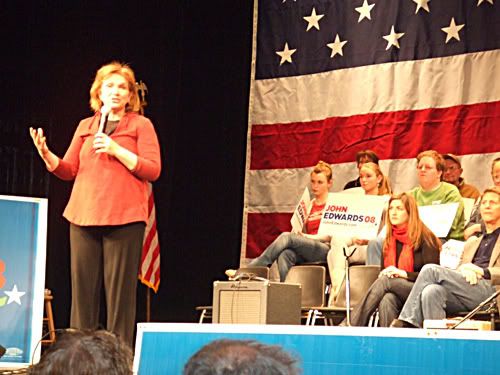 I recorded some of her introduction on video, but I still had to deal with those limitations of my camera. I had to cut it short to have room for some of John's speech.
Elizabeth is just so straightforward. You know she's not telling you any bullshit. And she's so sweet, with a nurturing "mom" kind of energy. I could just tell everyone in the room loved her.
She introduced her husband, and as he came out I captured this lovely photo of the two of them.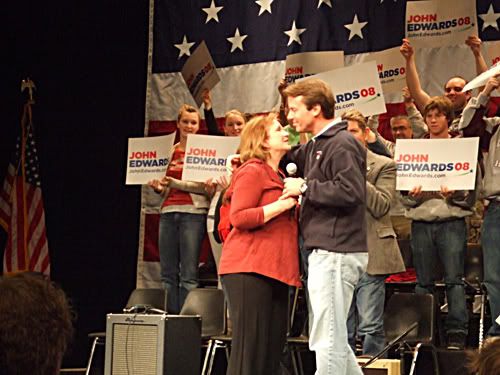 The real star of the show, however, was John Edwards, who gave a fiery passionate speech about the need to reclaim America from corporate interests.
I recorded a good portion of his speech on video. He was really on fire! Talk about showing some passion for the cause! The speech was incredible. Well, you should just check it out...
After a brief, heartfelt speech, he took several questions from the audience on issues ranging from ending the war to health care, to Israel and the Palestinians to Social Security. He gave detailed, specific answers to all of them. I wish I'd been able to record those too, because I think he was really connecting with the voters.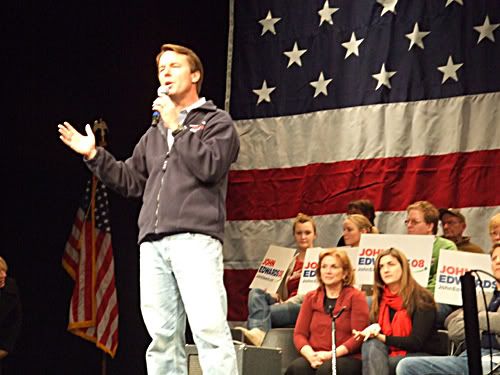 I hope those New Hampshire voters heard what I heard, because what I heard was a man who will fight with everything he's got for you and me, because that's just who he is and that's what it means to be true to himself.
If you can be in Manchester, New Hampshire this evening, there is a similar event at 6:30 p.m. at the Palace Theatre.
Labels: 2008, Bonnie Raitt, Jackson Browne, John Edwards, Lebanon, New Hampshire, president