Welcome to tonight's Edwards Evening News. Today, the Edwards campaign unveiled the America Belongs to Us campaign with a goal of getting one million voters to sign a pledge not to vote or caucus for any candidate who takes money from lobbyists and PACs. America belongs to all of us, and we're taking our country back! Click the image to sign the pledge.




Here's more on why America Belongs to Us from TomP's diary earlier today.


The "AMERICA BELONGS TO US" 2008 Pledge and website was anounced today by the Edwards campaign.



Lobbyists have taken control in Washington and America's hard-working families pay the price. They've stopped universal health care. They've secured unfair and unsafe trade deals that have cost America good middle-class jobs. They've left our children at risk from unsafe toys. They've sabotaged clean energy legislation that would address global warming. And they've squashed efforts for cheaper generic prescription drugs. Enough is enough. America belongs to us.



If you want real change, Sign the Pledge:



Because I believe we need real change in America and an end to the broken system in Washington that works for special interests and not us, I pledge not to vote or caucus for a Democratic presidential candidate that accepts campaign contributions from Washington lobbyists and special interest PACs.



AmericaBelongsToUs2008.com


Edwards Walks the Picket Line with Striking Writers in New York
Yesterday, John Edwards walked the picket line in New York with striking members of the Writers Guild of America East. This is the second time during this presidential campaign that he has walked the picket line with striking workers, as
Miss Laura pointed out in her front page diary earlier today.
(It's definitely not the first time that he's showed up to support union workers, however, having participated in nearly 200 union events over the years.)
Edwards speaking to striking writers in New York
Edwards Explains His Healthcare Mandate
Today,
Edwards explained the details of his healthcare mandate
, which allows his healthcare plan to be truly universal.
"We need true universal health care reform that covers every single man, woman, and child in America. It is wrong to leave anyone without the care they need. A universal system will work better for all of us – delivering better care at lower cost.

"Barack Obama's plan leaves out 15 million people. The truth is that some people will choose not to buy insurance even though it's affordable, knowing that the rest of us will pay for their emergency room visits.

"But it is just as bad to say that everyone will have insurance without a plan to get there. Hillary Clinton says her plan will cover everyone through a 'mandate' but does not provide even the most rudimentary idea much less a detailed plan of how this 'mandate' would work. To get fundamental change in our health care system, we need a fundamental change in our politics. That starts with being clear and direct about what we are going to do and how we are going to do it."

Edwards' truly universal health care plan will ensure that every American has health insurance. He will require proof of insurance when income taxes are paid and when health care is provided. Families without insurance will be enrolled in Medicare, Medicaid, SCHIP or another targeted plan or be assigned a plan within new Health Care Markets.

Families who lose coverage will be expected to enroll in another plan or be assigned one. For the few people who refuse to pay, the government will help collect back premiums with interest and collection costs by using tools like the ones it uses for student loans and taxes, including collection agencies and wage garnishment.

Ezra Klein at Tapped
had this to say
:
Later today, John Edwards will announce the specifics of how his mandate works. And they're quite good. Whenever you come into contact with the health care system, or whenever you pay your taxes, you will be asked to provide proof of insurance, presumably a policy number or some similar identifier. If you cannot, you will automatically be enrolled in either a public plan that you qualify for (like Medicaid or S-CHIP) or the cheapest plan offered by his Health Insurance Market. Bills will then get sent out, and if they're not paid, will be collected just like the government collects on student loan debts, or taxes, or anything else, using tools up to and including collection agencies and wage garnishment. (It's notable, here, that Edwards doesn't shy away from saying what his stick will be.)

In this way, Edwards' plan is much less an individual mandate and much closer to a government mandate. The burden is less on the individual to seek new insurance and more on the government to simply enroll them in it. From there, they can opt in to a different insurer if they so choose, or simply stay with their default plan. It's a smart and efficient way to move towards universality, and, for now, it puts Edwards ahead of both Obama and Clinton on the substance of the policy, and the speed with which he presented it to the public.

PSSST! I hear a new ad is coming out in Iowa
I hear through the blogosphere grapevine that a new ad is coming out in Iowa in a couple of weeks, and
our own Im4JRE, a longtime supporter from the Edwards blog, was there when they filmed it!
So cool! Check out her first hand account:
John was relaxed and joked with all of us and he thanked us for our patience, hah...like it was an effort to see and listen to him...not.

I won't tell you what the ad was about as you will see it for yourselves in a week or two.

After the camera men were through, they took pictures of JRE just talking to the crowd, no sound, and it wasn't about politics, just ordinary people talking about this and that. I did ask JRE that when he won the Iowa caucus, would he wait for me to get to the celebration before he made his VICTORY speech... and he said for all to hear... Count on it!

I wanted to share this event with all of you to let you know that JRE is our man for President and that he is powerful and he will stand with us and for us to make America ours again.
You can read more in her diary.
Congratulations, Im4JRE!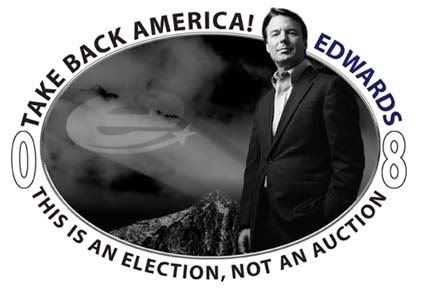 Send Out the E-Signal! Upcoming Events!Edwards will be on Charlie Rose tomorrow, November 29th.
Check your local listings.
It's on at 12:35 PM where I am in Maryland. Thanks so much to Terre for this information! Charlie Rose also has
a page of prior interviews with John Edwards
.
UPDATE: Terre also tells me that Keith Olbermann will be interviewing John live from the campaign trail tomorrow on Countdown on MSNBC. Couldn't find confirmation on his web site, but anyway, Keith is always worth watching!
Also tomorrow:
John Edwards will deliver remarks to the Iowa City Foreign Relations Council
Nov 29, 2007
6:00 PM
Hotel Vetro
201 S Linn Street
Iowa City, Iowa
Click here to RSVP
John Edwards will speak to the DNC Fall Meeting outside of DC in Vienna, Virginia on Friday morning.
I was at his speech to the DNC Winter Meeting much earlier this year, and it was fabulous! If you are in the DC area, come out to support John! You can RSVP for the event at the link above.
If you can come to an early state and volunteer, the campaign would love your help.
Sign up here.
Some Cool Diaries You May Have Missed
Democratic Presidential Ads in NH and Iowa - What do you think?
by Ellinorianne
A Plea to Early State Democrats From an Edwards Supporter
by RDemocrat
John Edwards, in dead heat in Iowa, quietly starts to move up in NH and SC
by JSamuel
Labels: 2008 elections, America, campaign finance reform, edwards evening news, John Edwards, lobbyists, organized labor, president, primaries, strike, unions, universal health care, WGA, writers