Welcome to your Edwards Evening News! I just got back from a weekend volunteering for the Edwards campaign in New Hampshire, so tonight we have my special report from the Granite State. I'll tell you about door-to-door canvassing, making phone calls to voters, putting up a really large sign, and a visit to a house party for Elizabeth Edwards. All this, and the rest of the Edwards news, in tonight's EENR.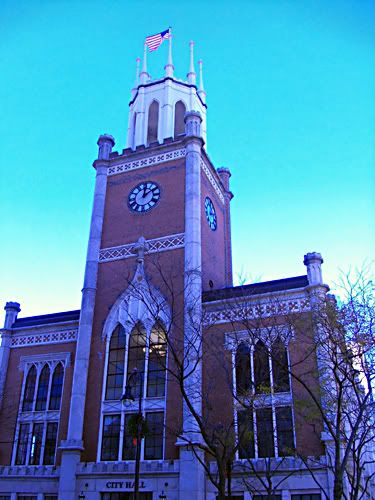 Manchester, New Hampshire City Hall

Road Trip to New Hampshire

This weekend, I finally got around to going up to New Hampshire to volunteer for the Edwards campaign. For the past couple of months, I have been meaning to do this, but I kept trying to plan it around an event. The trouble was, I would find out about the events three or four days ahead of time, and by then I would have other plans. Eventually, I had to just plan a trip to New Hampshire when it was convenient for me, and hope there would be an event I could go to. Everything worked out just fine, and on Sunday night I got to go to a great house party with Elizabeth Edwards!

On Saturday and Sunday, I spent most of each day canvassing neighborhoods in Manchester. I went out with other volunteers or Edwards staffers to knock on doors in specific neighborhoods assigned by the campaign. The plan was to try to talk to voters about their choices, answer any questions about Edwards, and at least leave some literature, whether or not they were home. I estimate that I personally knocked on about 150 doors over the weekend.



Front of campaign literature

Most people were not home, but of the voters I did get to talk to, almost all of them were undecided. Based on this experience, I would say that if anybody tries to suggest to you that a particular candidate has New Hampshire sewn up, they do not know what they're talking about. Most voters simply have not made a decision yet. Those voters I spoke with seem to be taking their responsibility as New Hampshire voters very seriously and still pondering the possibilities. Among the few voters I talked to who had made a decision, they seemed as likely to be supporting JRE as anyone else.

Manchester, New Hampshire is a very nice small town that presidential candidates just happen to spend a lot of time in. At first glance, it seems quite normal, but it does become a bit strange when you realize that almost everyone in town seems to have had some sort of contact with a presidential candidate.

For example, I found a great Mexican restaurant, Consuelo's Taqueria, which had the best burritos that I've had since I lived in California. I really miss getting good Mexican food, so I ate there twice. The people that work there are very friendly, and I had some great conversations with them, and in one of those conversations I found out that Bill Richardson just happened to have stopped in there and given a speech recently. Everyday happenings in Manchester, New Hampshire!

On Sunday morning, I had breakfast at the Merrimack Restaurant, which happened to be about the only thing open, but which is also a favorite campaign stop for candidates. They have the wall and the paper menu complete with caricatures of the current candidates to prove it.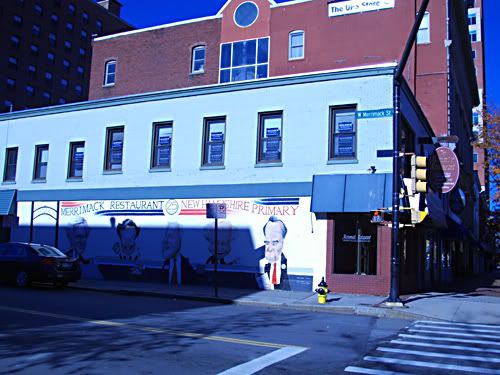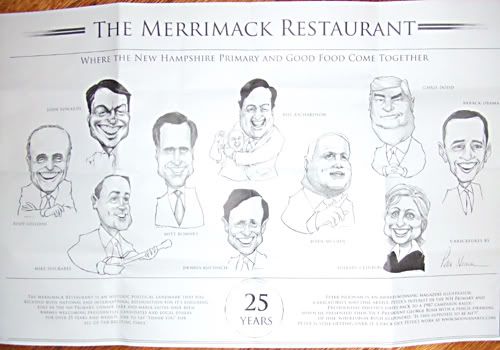 I thought the party at the next table were just a bunch of tourists from New York until the camera crew arrived. They had mentioned Rudy Giuliani quite a bit and 9/11, but it took me a while to realize they were actually a group of firefighters who think Giuliani did a terrible job before and during 9/11 and they have formed a group opposing his nomination. I had seen their web site before, and I think I recognized one of the men at the table from this video. Everyday happenings in Manchester, I tell you.

On Sunday and Monday in particular, I spent quite a bit of time with a couple of the Edwards staffers, because I went out canvassing with them. One of them mentioned to me that campaigns always reflect the candidates, and I have to agree, because everybody that I've met on the Edwards staff is really nice. I enjoyed meeting them and talking about the campaign.

Sunday night I drove out to Hampton Falls near the coast to attend a house party for Elizabeth Edwards. Elizabeth was speaking at an old farmhouse that was built in 1753. I could tell it was really old as soon as I walked in. It had gorgeous wood paneling, fireplaces, and low ceilings throughout. Tracy, the owner of the house, told us it was built in 1753. I have not been in very many houses in this country that are older than the nation itself.




Elizabeth spoke for about 15 minutes and then took questions for perhaps another hour. She answered the questions in great detail, usually speaking for more than 10 minutes on a single voter's question. As usual, she was charming and direct and I'm pretty sure she convinced a number of undecided voters to support John. I spoke to one woman afterwards who for sure had decided to support John after hearing Elizabeth. I also overheard someone else saying they were moving closer to the Edwards camp after the event.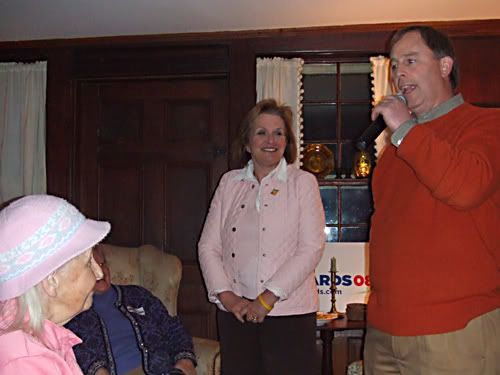 I took video of the event, but my camera battery died toward the end of it. The video I have is a little less than an hour long. After the battery died, she also answered a question on restoring our relationships with the rest of the world. I wish I had been able to record that, because her answer was really good. Here's my video of the event:



Here's a shorter clip from the same house party of Elizabeth answering a question about John's rural policy. This video was taken by a campaign staffer:



We hear that Elizabeth is a regular reader of Edward's Evening News, so Elizabeth, if you are reading this, hi there! I'm sorry that I didn't get to speak to you after the event, however, I thought it was more important for you to speak with New Hampshire voters, so I stepped back to let you do that. You certainly seem to have made a good impression.

On Monday, I went back to the campaign office to make phone calls. This proves that I am really dedicated. Making phone calls is probably almost my least favorite thing in the entire world. I think I made about 150 of them.

The purpose of the phone calls was to invite people to come hear John Edwards speak in Manchester on Monday the 26th. If you will be in New Hampshire on that day, he will be speaking at the Millyard Museum at 7 p.m.

I think people in New Hampshire must be really nice, because very few of them were upset at me for bugging them with a political phone call. Or maybe it was just because I was inviting them to see John Edwards, which quite a few of them were very excited about.

In the afternoon on Monday, I went out and did more canvassing with one of the staffers. As you might imagine, even fewer people were home on Monday afternoons than had been on the weekend.

In the evening, we had the pleasure of putting a really big sign on the fence in front of a supporter's house. It's on a very busy street, so it will be seen by a lot of people! Doesn't it look great?




That's about it for my weekend in New Hampshire! I really enjoyed the chance to go and help out with the Edwards campaign, and if you can travel to one of the early states, I encourage you to do the same. You can sign up to do that right here!

More of Tonight's Edwards News

New Hampshire Primary Set for January 8th!

New Hampshire has finally decided on it's primary date and the winning date is January 8th. Here's John's statement on that:


"I am pleased that New Hampshire will retain its rightful place as the first-in-the-nation primary. I applaud Bill Gardner's work to protect New Hampshire's significance in our nominating process. The New Hampshire primary is critical because voters in New Hampshire take their responsibility seriously: they listen to the candidates, look them in the eye, ask them tough questions and size them up. In New Hampshire, ideas truly matter more than money and that is precisely why this is anyone's race.

"I look forward to campaigning across New Hampshire during the final weeks of this campaign. I have spent time in living rooms and town halls in every corner of the state and everywhere I go, I hear from voters that they're looking for real, meaningful change in Washington next November. From now until January 8, I look forward to continuing to meet with voters to talk about my plans to shake up Washington and restore the power of government to the hands of regular, hardworking people."

Edwards Announces Policies for Fighting Hunger in America
Tomorrow many of us will get together with family and friends and most likely eat WAY too much. But there are a growing number of hungry people in America. At this holiday, when the emphasis is so much on food, be thankful if you have enough to eat, but also, please do what you can to help your neighbors who may be going hungry.
In the spirit of the holiday, today
John Edwards announced his plan to fight hunger in America.
TomP had
a great diary
on this earlier, in case you missed it.
The six points of the Edwards plan:
1. Pass a Farm Bill with Strong Nutrition Programs: The nutrition programs in the Farm Bill are critical to increasing food security in America. Just two programs – food stamps and the Emergency Food Assistance Program for food banks – help about 25 million Americans a year each. Unfortunately, federal funding has not kept pace with growing need and rising costs. Last week, Senate Republicans used a filibuster to block the farm bill, sending Congress home for Thanksgiving without helping overtaxed food banks or hungry families. Edwards believes that Congress should quickly pass a strong and fair farm bill with robust funding for federal nutrition programs and President Bush should sign it. [ASH, 2007]

2. Get Food Aid to More Eligible Families: Food stamps – cash assistance averaging only about $1 per person per meal – help families purchase food and provide nearly a two-to-one benefit for the local economy. But one out of every three eligible families is not enrolled in the program, including millions of families who visit food banks and other community food services. Edwards will expand a pilot program, Express Stamps, which provides online enrollment kiosks at local food pantries. He will expand alternative hours at food stamp eligibility offices so that working families can enroll without missing work. To modernize eligibility and benefits, Edwards believes that Congress should quickly pass reforms to raise the minimum benefit level (which has remained at $10 since 1977), allow families to deduct their actual child care costs and protect families with modest retirement or education savings so they do not have to chose between putting food on the table and their longer-term need of preparing for the future. [CBPP, 2007; USDA, 2006 and 2007]

3. Provide Healthy Meals for Children: The 12 million American children who go hungry are 90 percent more likely to be in fair or poor health, have 30 percent higher hospitalization rates, and have lower test scores, attendance and other academic indicators. As president, Edwards will ensure robust funding to meet the nutritional needs of low-income school children through school breakfasts, free and reduced lunches, after-school snacks, fruit and vegetable programs, and the critical but under-used Summer Food Program. [Cook et al., 2004; Frongillo et al., 2005]

4. Strengthen Food Support for Seniors: One in six low-income elderly families does not have a regular, reliable source of enough to eat. President Bush has repeatedly proposed eliminating funding for the critical Commodity Supplemental Food program, which delivers nutritious food packages to nearly half a million seniors in 32 states and two Indian territories. Edwards will strengthen support for this program and expand other supportive services including Meals-on-Wheels for seniors and people with disabilities. [CBPP, 2007]

5. Address the "Heat or Eat" Crisis: Nearly half of the families served by the nation's food banks have been forced to choose between paying for food and paying for utilities or heating fuel. Without assistance, even more families will struggle with this winter's anticipated record home heating prices. Today, Edwards called on President Bush and Congress to fully fund the Low-Income Home Energy Assistance Program — nearly doubling it to $5.1 billion – and adjust the standard utility allowance in food stamp eligibility rules to reflect soaring prices. He will help states implement new low- and no-interest consumer loan programs through states and non-profits and double the funding for weatherizing homes. He also has a plan to fight rising oil and gas prices by creating energy competition, reducing speculation in the oil and gas markets, and bringing down demand through greater building conservation, fuel efficiency and access to renewable sources. [ASH, 2006; EIA, 2007]

6. Support Food Access in Every Neighborhood: Wealthy neighborhoods have over three times as many supermarkets as non-wealthy neighborhoods. Small corner stores are usually more expensive and offer less nutritious food. Food-insecure families in rural areas often face high transportation costs to reach the nearest food pantries. As president, Edwards will launch a public-private partnership to bring fresh, nutritious food to new neighborhoods. He will create a national food access map that identifies neighborhoods lacking grocery stores, emergency food banks and regular access to fresh produce. His new Healthy Neighborhoods Seed Fund will offer needy communities challenge grants for projects including full-service supermarkets, community gardens and food stamp-friendly farmers' markets. [PolicyLink, 2005
Today, the Edwards family delivered food to a local food bank.
John Edwards is calling on his supporters to do the same by volunteering at a local food bank or donating food.
You can find your local Second Harvest food bank here.
Here's a Thanksgiving message from John Edwards:
Best wishes for a Happy Thanksgiving from all of us at Edwards Evening News!
Events in Iowa
The Des Moines Register has a great article today:
I Will Shake Up D.C., Edwards Thunders
Presidential candidate John Edwards declared Tuesday night that he would not back down in his quest to defeat the powers that he says have corrupted Washington, D.C.

"If you're considering caucusing for John Edwards, you know what you're gonna get because I'm gonna shake that place up," he told hundreds of Iowans packed into the auditorium at Des Moines' Roosevelt High School.

The former North Carolina senator gave one of his most emphatic speeches of the year before a crowd that had gathered partly to hear musicians Bonnie Raitt and Jackson Browne sing on his behalf. The musicians weren't the only ones drawing standing ovations. The audience cheered and whistled when Edwards called for their help in fighting to get the country back on track.

A voter asked him whether he had the management experience to lead the country, given that his professional background mainly consisted of confronting rivals as a trial lawyer. Edwards retorted: "Hell, yeah, I'm confrontational."

Earlier today, NCDem Amy had
a terrific diary
on Jackson Browne and Bonnie Raitt on the campaign trail with Edwards. I wish I had been there!
Happy Thanksgiving, everyone!
Labels: 2008 elections, canvassing, edwards evening news, elizabeth edwards, Hampton Falls, house party, John Edwards, Manchester, Merrimack Restaurant, New Hampshire, president, primaries