UPDATED TIME: John Edwards to rebut Bush on MSNBC
Tonight, after George Bush's address to the nation, presidential candidate John Edwards will offer a rebuttal on MSNBC. Edwards has purchased two minutes of air time so that he can respond to Bush.


John will challenge the President's remarks with a strong call to the nation to end the war now.

Bush is scheduled to speak at 9:00 p.m. Eastern for 15 minutes. Edwards will speak immediately afterwards.
UPDATE
Now the Edwards campaign is saying that Edwards will be on MSNBC at 9:53 p.m.
I'd really like to know who pushed back on the original time.
"Tell Congress you know the truth," Edwards says. "They have the power to end this war and you expect them to use it. When the president asks for more money and more time, Congress needs to tell him he only gets one choice — a firm timeline for withdrawal."

Edwards will also appear on
Larry King Live
on CNN tonight.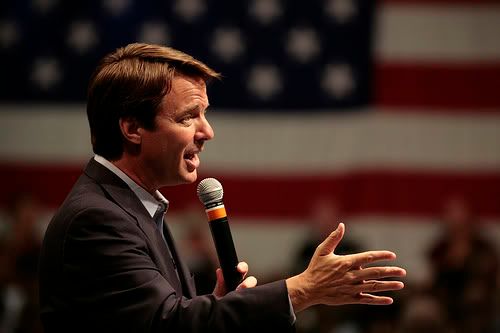 Labels: 2008, 2008 elections, Bush, CNN, Democrat, Democratic Party, democrats, iraq, John Edwards, JRE, Larry King Live, MSNBC, peace, president, war